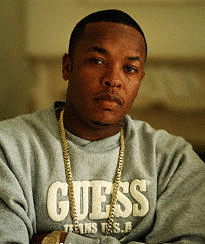 Enter content here
Biography


Considered by some as "revolutionary rap visionaries," Dr. Dre, Ice Cube, and others from L.A.'s Compton neighborhood were founding
members of N.W.A. (Niggaz With Attitude). "F*** Tha Police," off their first album (Straight Outta Compton, in 1988), upset so many people that the
group was investigated by the F.B.I. It also made N.W.A. rich and famous. After the crew disbanded. Dre's first solo effort, The Chronic, became the
sixth-biggest seller of 1993. The album earned him two Grammys--including one for best rap solo performance, for the single "Let Me Ride." Dre's
hot label, Death Row Records, launched the careers of Warren G. and Snoop Doggy Dogg; it grossed $75 million in 1994.

In the early nineties, Dre was sued by a woman who accused him of assaulting her in a nightclub (it was settled out of court) and by a colleague, the late Eazy-E (his label, Ruthless Records, sued Dr.Dre's Death Row Records for alleged racketeering; the suit was dismissed in 1993). The godfather of gangsta rap was convicted of assaulting a record producer, and arrested for punching a cop. On probation, he wore an electronic monitor and had to be at his million dollar home by nine p.m. The rapper's rap sheet got longer in 1994. After being pulled over for doing ninety in his Ferrari, Dre failed the alcohol test. He was sentenced to five months in the slammer for violating probation. It could be worse: Death Row partner Suge Knight ("the Spielberg of hip-hop") was convicted of weapons violations and assault. Now recently Dr. Dre has found a new prodige 'Eminem' he is signed under Dre's label Aftermath Records.