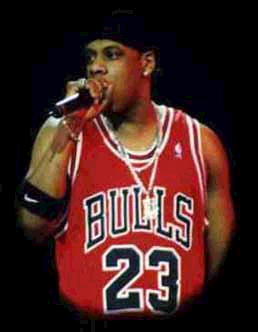 AT millennium's end, the hottest rapper in pop music is Jay-Z. Since the release of his quadruple-platinum Vol. II ??rd Knock Life, Jay-Z has had an incredible string of urban radio hits: "Can I Get a ??mp;quot; "Hard Knock Life," "Jigga What, Jigga Who," "Money, Cash" ??e list goes on and on. And unlike many of today's most popular rap artists, he built an extensive catalog of hits before making his mark on the charts and enjoys underground respectability as well as mainstream acceptance.

Longtime rap fans may remember Jay-Z as an associate of the Jaz, who had a minor hit in 1988 with "Hawaiian Sophie." Before that, he was Shawn Carter, a young man from Brooklyn's Marcy Projects. Though Carter was a promising student, his wild behavior led him to a vocational high school in Brooklyn, where he met future stars Christopher Wallace (the Notorious B.I.G.) and Trevor Smith (Busta Rhymes).

As a young MC, Jay-Z appeared on several underground mix tapes, and his work with the Jaz appeared promising. But with bills to pay, Jay-Z increasingly found himself mired in the criminal underworld, a life he had known since the age of 16. It wasn't until 1992 that he found the courage to leave the life of a drug dealer behind him.

After his retirement from crime, Jay-Z began to look for a record deal as a solo artist, but only had a guest appearance on long-forgotten rap group Original Flavor's 1993 single "Can I Get Open" to show for his efforts. It wasn't until a friend, Roc-A-Fella CEO Damon Dash, convinced him to form a record company with him that Jay-Z's career finally got off the ground. Jay-Z released his first single through Roc-A-Fella in 1995, "In My Lifetime." It proved to be a hit in New York's fickle hip-hop scene, and helped Dash and Jay-Z secure a distribution deal for Jay-Z's debut, Reasonable Doubt.

Though it wasn't a huge seller, Reasonable Doubt confirmed Jay-Z's status as one of the most promising lyricists in years, a rapper who vividly portrayed the highs and lows of being a black gangster. It yielded two hits, "Can't Knock the Hustle" (with Mary J. Blige), and "Feelin' It."

More importantly, it earned the admiration of veteran rap stars as varied as Ice Cube and the Notorious B.I.G., who joined Jay-Z on "Brooklyn's Finest," a vicious response to 2Pac's "Hit 'Em Up" single. A third hit, "Ain't No N****" (with Foxy Brown) found its way onto The Nutty Professor soundtrack.

The next year, Jay-Z and Dash negotiated a new distribution deal with Def Jam Records for Roc-A-Fella. The ascendant rapper had promised that Reasonable Doubt would be his only album, but he followed it up in 1997 with In My Lifetime, Vol. 1, a somber effort partly influenced by the murder of the Notorious B.I.G. Despite mixed reviews, the album entered the charts at No. 3, went platinum, and spawned two singles, "The City Is Mine" and "Sunshine" (with Babyface and Foxy Brown).

"I think 85 percent of it is solid," Jay-Z told Vibe magazine. "And that 85 percent was better than everybody else's album at the time."

That winter, Jay-Z was one of several opening acts on Puff Daddy's 1997 "No Way Out" tour. But conflicts with the tour's promoters led him to abandon ship soon after it began; instead, he decided to focus his energy on the fledgling Roc-A-Fella label and a straight-to-video film, Streets Is Watching. A short film about a group of hustlers in Brooklyn, Streets also served as a showcase for Roc-A-Fella artists like rapper Memphis Bleek, R&B duo Christion, and mix-tape star DJ Clue.

"Vol.2 Hard Knock Life" went platinum the first week out. And was number 1 on billboard for 5 weeks. With him being the first artist who had the No.1 radio single in the entire country last year with "Can I Get A..."

After that Jay-Z was on a roll. By the time Jay-Z finished the Hard Knock Life tour he was certified 4x's platinum. Also he was nominated for three Grammies. He won for "Best Rap Album". For Murder Dog magazine Jay-Z was named Best Male Solo 1998. Now with his fourth album out "The Life & Times of S. Carter" which is now certified 2x's platinum. It 's only one thing to be said is you no what to expect from the God MC the Jay-Hova. He never fails. Do you believe? For those who think that Jay doesn't care about his people, half the proceeds from the Hard Knock Life Tour Jay donated it to the columbine tragedy and $1,000 from "Do It Again" promo tour from (12 cities) went to TEAM ROC. All Shawn Carter wanted to do is reach his people. So all Jay-Hova witnesses keep believing.